Motherhood is such a privilege; however it comes to you. Your children (or child) are as if your heart has sprouted legs and arms, the cutest squishy cheeks and is walking, talking, crawling, gurgling! And it feels all too unbearable in the best possible way.
Becoming a mama has always felt as though I have been split apart; momentarily watching myself from above, an out of body experience. Then slowly piecing myself together, with what feels like new body parts, extra hearts and limbs. It takes a while to adjust to this new me, it feels clunky and I am me and not me all at once.
Luckily, I had a wonderful mama to draw inspiration from, to help ground and guide me (not to mention my wonderful friends who are mamas!) And my mama...goodness where do I start? She is all kinds of wonderful and fierce. She taught me to cook, to love, to dance (yup my mama is the one to blame for my kitchen dancing) and to dream.
When I become a mama, my appreciation and love for her only grew. She was there in hospital with me, rubbing my back and cheerleading from the side of the birthing pool as I laboured with Zora. She stayed and looked after me and helped whilst we adjusted to parenthood. She put us up for a whole month, when we made our move back to Birmingham. Whilst working, she still cooked and made sure I was ok and made my transition to mama of two so much easier.
But some of the moments that really stick in my mind are the tough times; our family went through some really difficult and sad times and through it all, my Mama worked her ass off! She worked her way up, she was determined and kept us fed and clothed. Her tenacity to provide for us made me see just how strong she was! And her love for us has never wavered.
And that is what I am learning as a mother too. I am a lot stronger than I ever knew. A lot more resilient and a whole lot more brave. I'm having to face my fears and faults and push myself to grow. I am imperfect. My mama is imperfect. But that is good enough, more than good enough.
When Rebekah, the brains (& beauty) behind the indie brand Lines & Current got in touch with me to collaborate on a Mother's Day giveaway, I couldn't resist! Not only because her jewellery and accessories designs are stunning but because her idea for this was just beautiful. Inspired by the hashtag project I am part of, #memyselfandportrait , Rebekah wanted all you wonderful storytellers to share your stories of mamas and motherhood; whether that is remembering a mama/child, celebrating friends who are amazing mamas or any mama figure in your life...in fact, Rebekah sent the poem below and I couldn't put it any better...be warned, leaky eyes could happen <3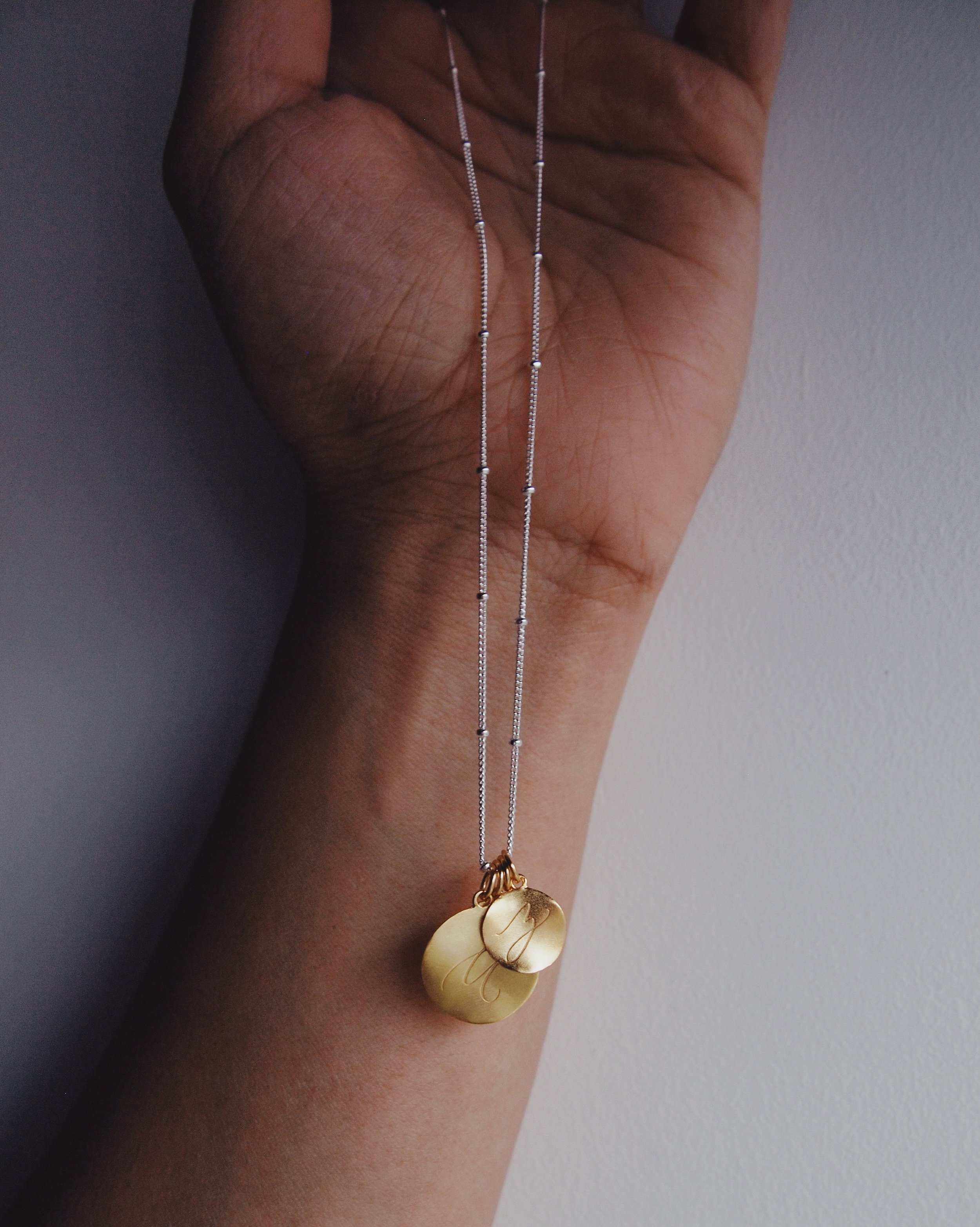 To the ones who think they don't deserve to be. To the ones who are mamas without a child. To the ones who are still waiting and hoping. To the ones who miss their own. To the ones who had but have lost. To the ones who will never be. To the mamas whose kids are still 'waiting to be found.' To the ones who waited longer than most and to the mamas who know it will just look different for them....
& lastly, to my Mama.
All DREAMERs. #MeMyselfandPortrait_Mama
words by Rebekah Johanson
More details of the giveaway will be up on my instagram soon, so look at for that! But you can start joining in now, using the hashtag #memyselfandportrait_mama and sharing your beautiful stories.
I want to introduce the stunning Dreamer necklace, which will be part of the giveaway. It really is super special, all tucked away in a classic brown box, the Lines & Current logo on top and nestled against the black velvety foam, the initials glisten and tinkle when you open it. I personalised the necklace for my mama, by choosing her initial and then three more representing her beloved grandchildren. The calligraphy is unique to the Dreamer necklace, designed by Rebekah's artist friend Aileen whose style is unmistakable and oh so elegant!
We cannot wait to see what you share, both images and words.
Love, Rida & Rebekah x
This is a sponsored post in collaboration with Lines & Current, but all images and thoughts are my own (excluding the beautiful words by Rebekah where I have credited her)